Seasonal Snow Removal
Brodhead Memorial Public Library is looking for a dedicated individual to fill our new seasonal snow removal position. This position works to remove snow and ice from library sidewalks in a timely manner. The position is hourly with no benefits, but may be renewable in the 2021-22 Winter season. The library provides access to snowblowers, shovels, ice melt, gasoline, and other tools to complete this work. 
Qualified candidates must have flexible work hours and be at least 18 years old. Pay for this position is $10.50/hour.
Hours for this position will vary and are based on snow fall and icy conditions. When snow falls overnight, our goal is to have all snow removed by the time the library would open at 9:00 a.m. In times of daytime snowfall, this position would remove snow when available, but no later than 9:00 a.m. the following morning. The library does close to the public on days that Brodhead School District cancels school due to heavy snow. On these days, snow would need to be removed by 9:00 a.m. the following morning. 
If you are interested in this position, please email your resume, including any relevant experience to brodheadlibrary@gmail.com. This position will remain open until filled, but those who submit resumes by Wednesday, December 9, 2020 will be given priority. 
Because this is a new position to the library, the Library Board will approve a job description at their December 2020 meeting.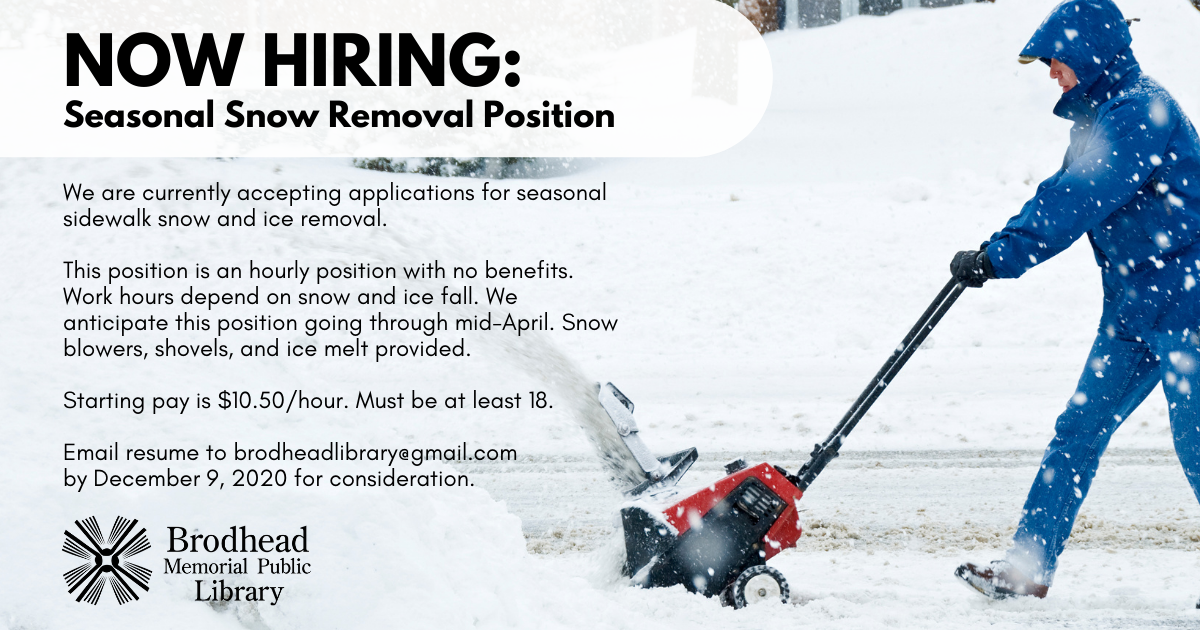 Posted Wednesday, November 25, 2020 at 11:00 a.m. 

Brodhead Memorial Public Library Employment Application (PDF)