When:
Monday, October 15, 2018 (All day)

to

Wednesday, October 31, 2018 (All day)
Brodhead Memorial Public Library is proud to announce its first Food for Fines program. For every factory-sealed carton from the list of items below, library staff will waive $1 of fines. Please note that Food for Fines does not apply to fees for missing or damaged items and cannot be applied to fines owed to other South Central Library System member libraries. Items must be brought to the Circulation Desk during regular library hours. All items collected will be donated to the Backpack Food Program at Albrecht Elementary School. 
Accepted items include:
Applesauce cups/tubes
Assorted crackers, individual bags (graham, triscuits, wheat thins, ritz, goldfish, teddy grahams)
Canned chicken (pop-tops)
Canned meals (pop-tops; Spaghetti-O's, Beef-a-roni, Dinty Moore, etc.)
Canned vegetables (pop-tops)
Easy Mac
Fruit/breakfast bars
Granola bars
Individual cereal boxes
Individual fruit cups (packed in real juice)
Instant oatmeal
Jello cups
Juice boxes (100% juice only)
Microwave popcorn
Peanut butter
Pretzels (small or individual bags)
Pudding cups (shelf-stable)
Raisins (packs of small boxes)
Soup (pop-tops)
Trail mix (small or individual bags)
Tuna packets/cans (pop-tops)
Patrons who do not have fines but would like to donate are also welcome to drop items off. If you have questions about Food for Fines, please contact the library at (608) 897-4070.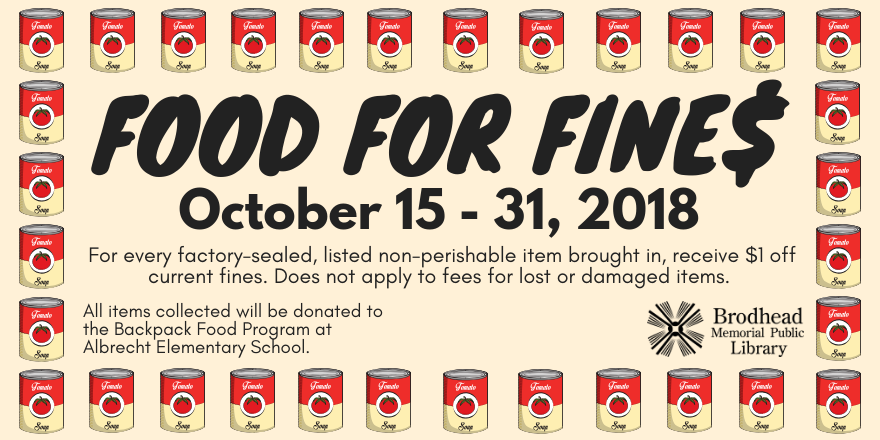 Image: